As the 2012 Off-Season continues the NBA Vine Report will recap each team's progress in several areas: Players Obtained, Players Lost, Short Term Outlook, and Long Term Outlook. The rankings for each category will then be combined to give an overall ranking for the "state of the organization" score.
Yesterday's Score: Miami Heat 35 of 40
Oklahoma City Thunder 2012 State of the Organization (as of 7/20/2012):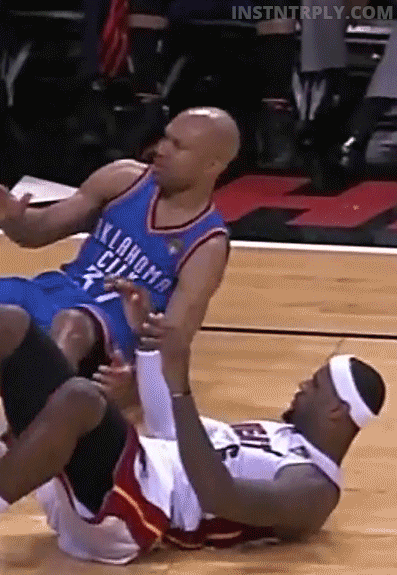 Players Lost: (maybe) Derek Fisher, Royal Ivey, Nazr Mohammed
Other than providing some entertaining moxie against LeBron en route to their 4-1 Finals demise, Derek Fisher's days as a contributing PG should be at an end—intangibles can only go so far to cover up 5 pts, 1 Ast, and only 31% on three pointers. Mohammed becomes even more expandable with the feckless interior presence of Hasheem Thabeet. Royal Ivey is a Batman villain?
1-10 Score: 10
Players Obtained: Hasheem Thabeet, Perry Jones,  Hollis Thompson
Manager of the Year awards need to be reconfigured to  favor the long term plan, in an NBA dominated by quickly conglomerated teams, Sam Presti continually sets his team up with great picks to support his established roster. Hasheem Thabeet will potentially provide a defensive stop-gap in case the Thunder decide to move the seemingly out of place Kendrick Perkins. Meanwhile, draft picks Perry Jones and Hollis Thompson will provide future interior presence and shooting prowess, respectively. Jones in particular could be an excellent pick with the 29th selection. However, unless Jones turns into an interior scoring phenom, the Thunder did not address their lack of low post scoring, which was exposed as a vulnerability against the Heat.
1-10 Score: 7
Short Term Outlook: Much like the Heat, the Thunder are in an excellent position to make another run at the NBA Finals this season. Durant, Westbrook, Harden and Ibaka have yet to enter their prime and are already a dominant team. However, their few short comings seem to be an issue that may haunt them this year again.
1-10 Score: 9
Long Term Outlook: You can't do any better for long-term prospects than the OKC Thunder. With talented picks like Perry Jones waiting in the wings, major trade chips like Perkins on the roster, and a young core that cannot be matched, this team appears to be poised for a long run of relevance. The only question that remains is whether or not Durant can overcome LeBron in a 7 game series while there is little doubt that Westbrook can surpass Wade in the next few seasons. While it will most likely require moving Perkins and taking some luxury tax hits, the Thunder should be able to keep a core of Westbrook, Harden, Durant and Ibaka together for years to come.
1-10 Score: 10
State of the Organization Index: 36-40